Looking for the most exciting activity to partake in this summer? It's time to get out and explore Toronto like you've never before. Experience the exhilarating feeling of water biking on Lake Ontario while enjoying breathtaking views of our beautiful city.
We are Toronto's first and only water bike rental experience and we encourage you to join us for an adventure you'll never forget.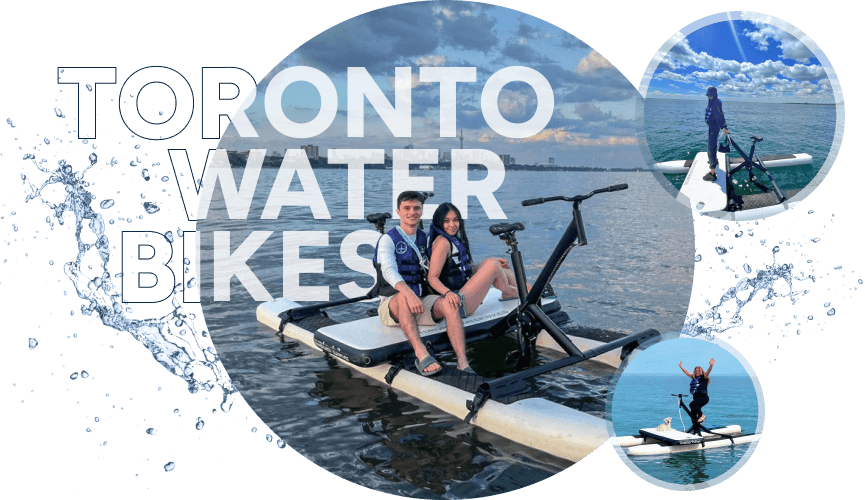 Physical Health
Water biking is a healthy and low-impact form of exercise for all ages. It's a top-notch cardio workout that strengthens your core, legs, and glutes. Not to mention, it helps improve brain functions like memory and cognition.
Cycling is considered an aerobic activity, which means your heart, blood vessels and lungs all get a workout while releasing endorphins which are our bodies natural happy chemicals.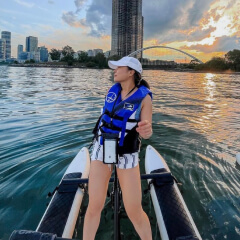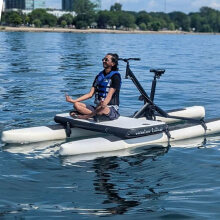 Mental Health
Spending time on water can be healing. Simply being in nature may be one of the best and most accessible ways to boost your mental health as nature has a way of improving mindfulness while decreasing anxiety and depression.
The feeling of weightlessness and the sensory experience of being surrounded by water provides a sense of escape from the stresses of daily life, and can help promote feelings of calmness and peacefulness.

Eco-Friendly
Water biking is a great eco-friendly water sport that allows you to enjoy spending time outdoors in the most sustainable way leaving no trace to the environment.
Riding the bike produces no noise which doesn't disturb our fish friends or pollute our waters. When we care about nature is when we truly see it to its full potential.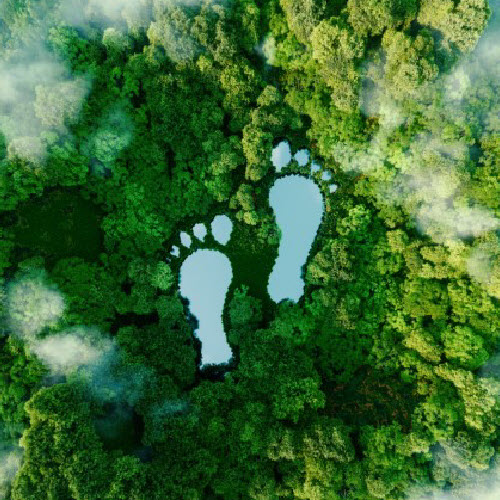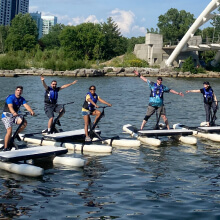 Enhances Team Building
What better way to bond with each other than to step out of your comfort zone and try something new? Some rewards to staying curious and experiencing new things include improved memory, mood and motivation.
We believe no growth can come from comfort. You may discover you had many talents and passions through your new experiences!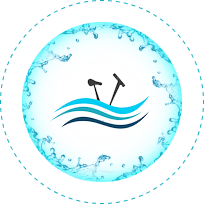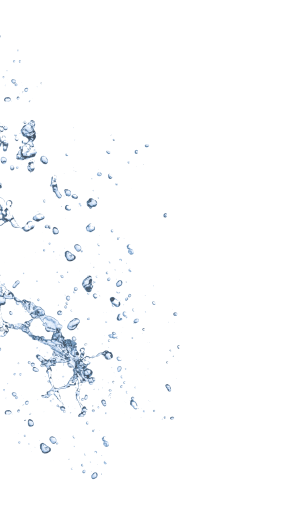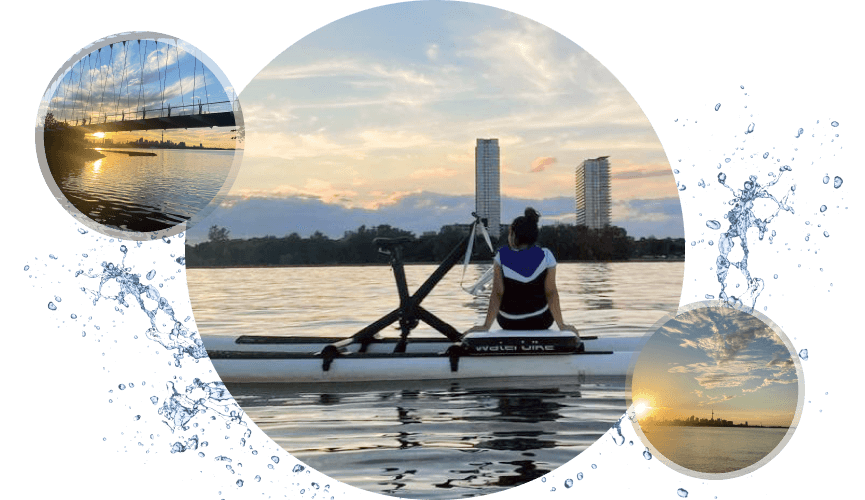 A Glimpse into our Experience
Close your eyes, take a deep breath, and imagine being one with the water. Once all the noise of the city cancels out and all you hear is silence, that's when you start to notice yourself drift into a calmer state. You feel the breeze on your face and the sun on your skin. Your stillness allows you to pick up on the soothing sounds of wildlife around you.
Now open your eyes and what do you see?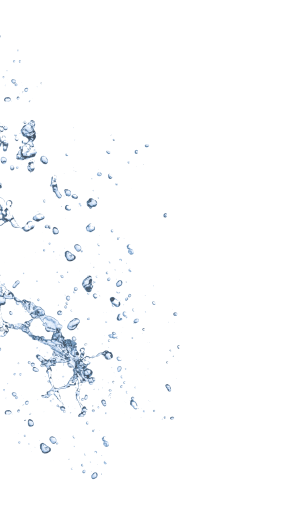 Water Bike Rental Options
What's included with your ride:
Life jacket that must be worn at all times during your ride
Waterproof phone case that ties around your neck to keep your phone safe and dry during your ride
Waterproof fanny pack to store small personal belongings
What we recommend you bring:
Government issued ID that will be used for check-in
A change of shoes or clothes in case you get wet
A fully charged phone as this will be your point of contact with us while out on the water
Water to stay hydrated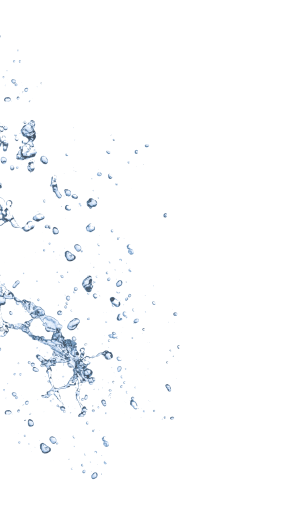 What Our Water Bikers Say
Joy Tanamor
August 19, 2022
It was such a great adventure, an amazing experience! Inquired, met two very pleasant, friendly and very professional young ladies, I should say very smart young entrepreneurs. After a short detailed explanation, we were excited to try. We were geared up with life jacket, a bag with water bottles and a tiny pouch for our cell phones. How nice is that! The rules…do's and don'ts were explained thoroughly and step by step on how to use and maneuver the water bike. Now the fun part!🎶✨⚓️🛟🪝 We were helped with a little pushed and away we go! The bike was equipped with a board that you can sit down and relax. We went a little farther from the harbour and stop there. My husband and I enjoyed the wonderful scenery around us. The view of the city was breathtaking. It was an incredible feeling, very relaxing just floating there. We realized that one hour is too short when you are having fun. At the end of the night we met another wonderful lady. She is the mom of the two awesome ladies. Beautiful family! For people who loves adventure, a little alone time with your partner or just a place you can relax and enjoy, please try this place. We highly recommend it. Thank you! It was a fun time for us.
Suavae Ricketts
August 17, 2022
Words cannot express how wonderful our experience was!!! The customer service was EXCELLENT!!!! and the staff is very professional and friendly! Thank you again Toronto Water Bikes team for this amazing/ unforgettable experience.
Moh Majumder
August 15, 2022
Amzing expeirnce A class customer service Great idea to bring something thing in TO first of it is kind
mikkaila vescio
August 13, 2022
Amazing! The staff was so friendly and welcoming! Everything was explained in detail which made it very easy to maneuver and an overall great time. We were provided with a waterproof phone case which was amazing so we were able to take pictures and videos while on the water. We were also provided water bottles in a cute Fanny pack to take with us in case we got thirsty while on our ride (included in our trip). The water bikes were clean and very sturdy. The sunset view was so beautiful. Great choice for a date night. Overall great experience.
Brianna Adams
August 6, 2022
Such an amazing experience. Owners were so great to work with, you can tell they love what they do and are there to make there customers happy. Can't wait to go again and tell every else to go as well.
Alan Abramson
July 31, 2022
What an awesome ride! This is something everyone should try this summer. Spectacular city views and incredible sunsets. They staff are amazing…best customer service I have ever experienced. I can't wait to do it again!
My friend and I did the tandem water bike yesterday. I would recommend the experience if you're looking for something different this summer while getting a workout and some good IG photos! The staff are super helpful and friendly....excellent customer service.
I had a wonderful experience riding the single water bike and the owners are some of the sweetest people I have done business with. I highly recommend trying this experience. It is unique, fun, environmentally safe, and you get such a good workout! They really care about your safety and made me feel comfortable through the entire process. Thank you so much Toronto Water Bikes for helping me cross this experience off my bucket list and for being so kind.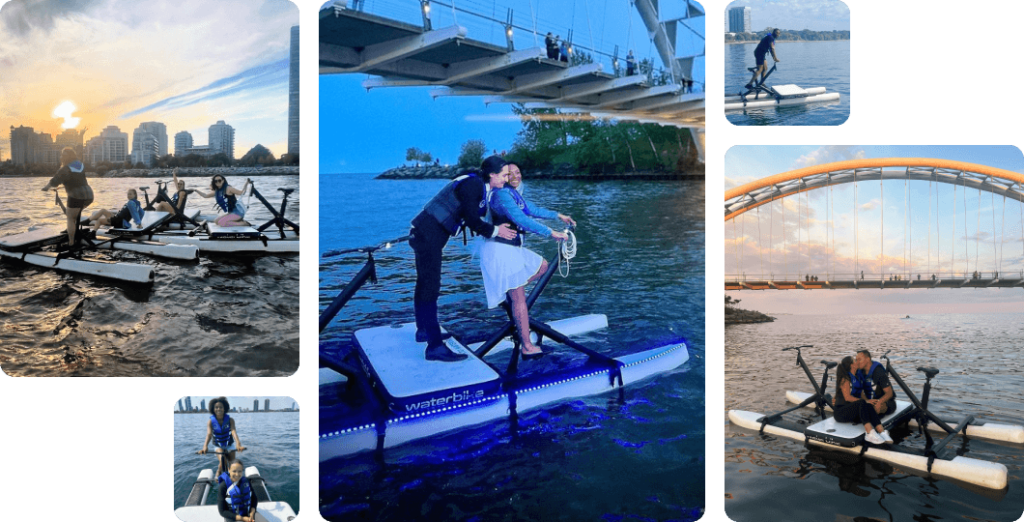 Where Cycling Meets Water.™
Our Mission:
To bring people together to create unforgettable moments whilst improving ones' physical and mental state, without compromising the environment.
Our Vision:
To be the worlds leading water bike rental and manufacturer through continuous exploration and innovation, making water bikes accessible to everyone everywhere.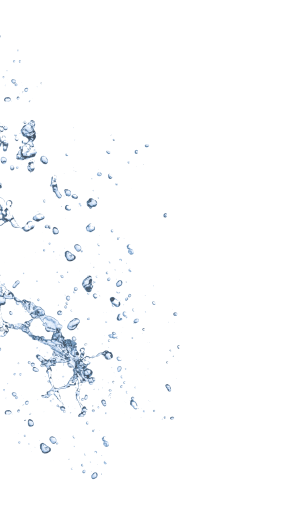 The Water Bike Experience